Hello! I'm writing to you as a married woman! Austin and I got married May 18, 2013 at Joyful Ranch in the valleys of Vacaville. We had the most lovely wedding (post with pictures to come soon!) and are so excited to be married. We had been dating for nearly nine years (since my sophomore year of high school) and our wedding was a very emotional day. We waited to live together until we were married so this last week has been very new and exciting for us. We're loving it! I wake up early with him before he goes to work and for breakfast and coffee together and when he comes home from work I have a home cooked meal ready for us. These things truly make me feel good. I love baking blueberry muffins and squeezing fresh orange juice for us to enjoy together. If I have the time to make something from scratch I will try to. I do these things for him of course but its also for me. It just makes me feel really good!
Over the last year of Austin living in his, now our, home I did some decorating. I couldn't help myself! So moving in isn't a totally shock to the system. It already had my touches all over it. Since moving in I have really focused on those finishing touches that make the space feel like home. If I could describe my decorating style I would say its...Americana mixed with whimsy. I'm inspired by farm houses...and the early 1960's. I go between listening to Billie Holliday and Sidney Bechet to Annette Funnicello and Astrud Gilberto. Sometimes I feel so inspired by all these things that I have a hard time falling asleep at night!
Our home (which is small-I'm talking under 600 sq feet!) is a work in progress. I thought that I would feel cramped in such a small space but I actually love the feeling of a small home. It feels cozy. I also love that it's down town and just a few blocks from First Street.
I'm really happy with it right now...but I will probably find something that I want to change in the near future. Too many inspirations! Because the house is so small we really have to focus on the size of our furniture and the functionality of pieces. Austin had an old couch in the "living room" that he had in college and it was big and bulky. We decided about a month ago to get rid of it and purchase two chairs. We found these wing back chairs at Ikea and footstools at Target. They are so comfortable and I love the way they create a little seating area with my vintage painted table in between. Hi Kota!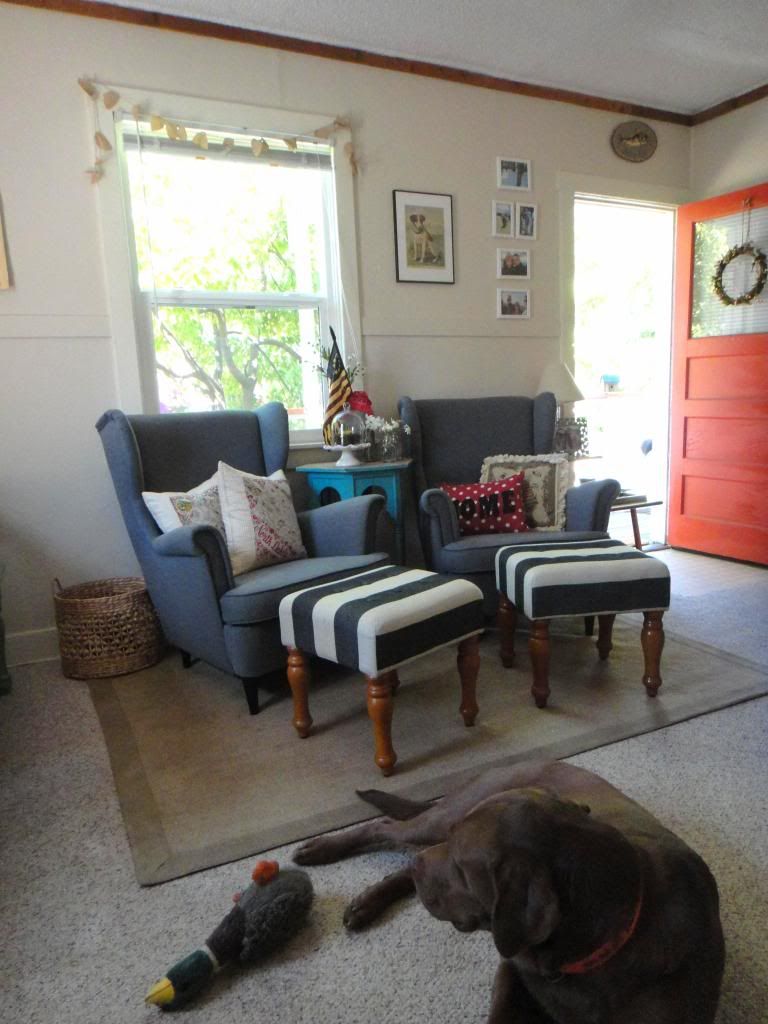 My amazing bosses, Tirzah and Jonathan, gave us this beautiful dining table for our wedding gift. I had mentioned to Tirzah when she brought the table into the shop a while ago that I loved it and that it was my "dream table" and she remembered and now it's ours! She's awesome. : )
My grandma gave us the green chairs last year and I love how they look with the rustic table. Because we have to push it up against the wall (small space!!) we were trying to think of ways we could seat more guests if we ever need to. A bench seemed like the best option so we could tuck it under the table when we needed more space in the room. As I was taking a walk on first street today I noticed a white bench in the thrift store...$30! I did some measuring and boom! It was a perfect fit. When I got it back to the house I decided white was way too much of a contrast against the dark table so I chose a soft green paint and an hour or two later it was done! I love this green with the table and the other green chairs. Fun fun fun.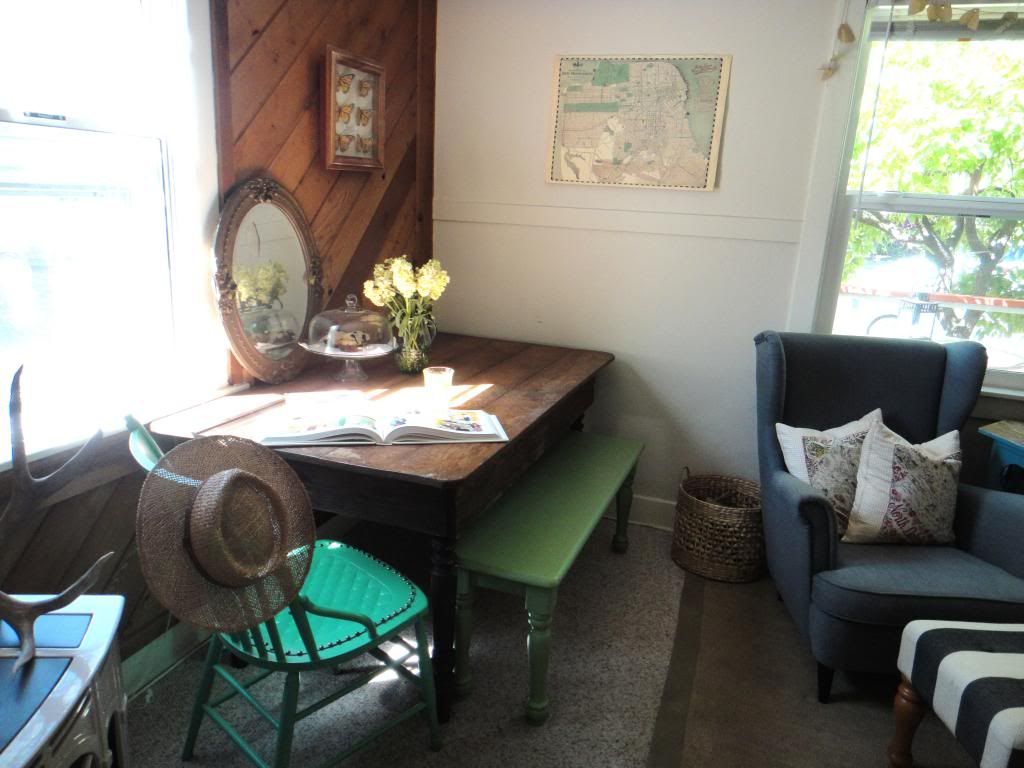 That's it for the living room...I'll show more later!
- Greer